I augusti är Mirel Wagner tillbaka med sitt andra album, denna gången på Sub Pop. Oak Tree är det första vi får höra från kommande When The Cellar Children See The Light Of Day och det låter fantastiskt.
Efter 5 års tystnad gör Jamie T comeback med lågmälda, smygande och lätt sorgsna nattsingeln Don't you find.
Jamie T fick sitt stora genombrott 2006 med If you've got the money och släppte sitt debutalbum Panic Prevention 2007. Själv föredrar jag hans andra skiva Kings and Queens' (2009) där Jamie T blandade danshitsen med sin mer introvertra sida.
Mycket vacker Coldplay-cover av Brandy.
Way Out West-aktuella Seinabo Sey går från klarhet till klarhet. Nu har hennes andra singel Hard Time, en av årets hittills bästa låtar, blivit med video.
Teddybears är åter i rampljuset efter några års frånvaro. Här får du Sunshine, en lika genreöverskridande märklig som klistrigt mäktig liten dänga. Släpps lämpligt nog lagom till sommaren. Läs mer hos våra vänner på Noisey.
Här är min personliga guilty pleasure-låt våren 2014. Idol-Jens Hult har lyckats skaka av sig teflonet och har skapat en debutsingel som är både klassisk svensk sommar och vackert vemod. Att låten har streamats en miljon gånger redan är också ett talande tecken. Ska bli spännande att se hur han tar det vidare, men här är en purfärsk video, och en EP släpps inom kort.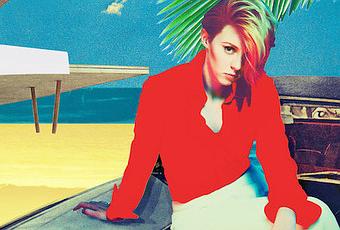 Fem år har gått sedan La Roux charmade hela världen med hitsen Bulletproof och In For The Kill. I sommar släpps äntligen duons andra album Trouble In Paradise och på första singeln Let Me Down Gently visar de en ny och aningen mindre kaxig sida än på debuten.
För er som hittills missat svenska Marlene och hennes poppiga R&B finns nu ett utmärkt tillfälle. Hennes första EP Indian Summer innehåller både hennes tidigare singlar Bon Voyage och Stay Awake, och tre helt nya spår att svalka er med i vårvärmen.
First Aid Kit fortsätter sin väg mot världsherravälde. My Silver Lining är den senaste singeln från albumet Stay Gold som kommer ut 10 juni 2014. Låt, video, stämning = mycket snyggt.
Och här är Cedar Lane som kom förra veckan: Läs mer