Teddybears är åter i rampljuset efter några års frånvaro. Här får du Sunshine, en lika genreöverskridande märklig som klistrigt mäktig liten dänga. Släpps lämpligt nog lagom till sommaren. Läs mer hos våra vänner på Noisey.
Här är min personliga guilty pleasure-låt våren 2014. Idol-Jens Hult har lyckats skaka av sig teflonet och har skapat en debutsingel som är både klassisk svensk sommar och vackert vemod. Att låten har streamats en miljon gånger redan är också ett talande tecken. Ska bli spännande att se hur han tar det vidare, men här är en purfärsk video, och en EP släpps inom kort.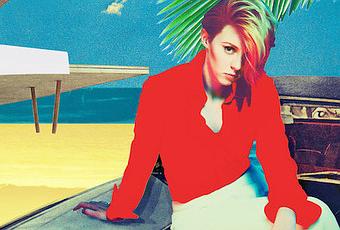 Fem år har gått sedan La Roux charmade hela världen med hitsen Bulletproof och In For The Kill. I sommar släpps äntligen duons andra album Trouble In Paradise och på första singeln Let Me Down Gently visar de en ny och aningen mindre kaxig sida än på debuten.
För er som hittills missat svenska Marlene och hennes poppiga R&B finns nu ett utmärkt tillfälle. Hennes första EP Indian Summer innehåller både hennes tidigare singlar Bon Voyage och Stay Awake, och tre helt nya spår att svalka er med i vårvärmen.
First Aid Kit fortsätter sin väg mot världsherravälde. My Silver Lining är den senaste singeln från albumet Stay Gold som kommer ut 10 juni 2014. Låt, video, stämning = mycket snyggt.
Och här är Cedar Lane som kom förra veckan: Läs mer

Nine Inch Nails går på scenen på utsatt tid, prick 20.40. Bandet har varit aktiva i drygt 20 år, och är riktiga proffs vid det här laget. Tyvärr gapar läktarna tomma, men vi som tagit oss till Hovet kommer inte ångra oss. Vi kommer bjudas på några axplock ur bandets magnifika historia.
Läs mer
Efter en turné under 2005 tog Björns vänner en paus, under 2006 gjorde bandet några spelningar och sedan blev det tyst igen. Sju år senare är nu bandet tillbaka med EPn Märker ni ingenting alls? och visst känner jag igen Björns vänner. Det är samma briljanta, kvicka lyrik med samma självömkande ironi och blottade känslor som gjorde att jag föll för Björns vänner första gången. Och jag faller igen.
Tänk vad fint det kommer bli med Röyksopp och Robyn tillsammans på Way Out West i augusti.
Från andra sidan sundet kommer den fantastiska Broken Twin. Den 28 april kommer det efterlängtade debutalbumet May. Den välstämda och magiska Glimpse of a Time är hämtad från detta album.

Det händer så mycket i det där gamla glappet mellan finkultur och populärkultur just nu så att man blir alldeles varm. I Stockholm har vi på senare tid sett hur Berwaldhallen fortsätter att boka modiga saker (snart Jenny Wilson två kvällar), Operan har gästspel av Petter och Dramaten har haft flera intressanta artister på sin anrika scen. Nu är det dags för det ultimata beviset på att kvinnlig svensk hip-hop är något att räkna med, när Linda Pira dra med sig hela gänget från Knäpper mina fingrar (Remix) som släpptes i februari.
Under konceptet Ladies First intar de Dramaten den 19 maj. På scen ser vi Linda Pira, Kumba, Rosh, Cleo, Sep, Vanessa Falk, Rawda, Julia Spada, Joy, Stor, Dani M - och DJ Salla förstås. Biljetterna släpps i dag 2 april hos Luger.